Looking for your first home or next home to own? Well then it's time to make a wish list! Do you know what you're looking for? To help, there are quite a few essential features of a home that many homeowners look for but forget to include when they start viewing homes.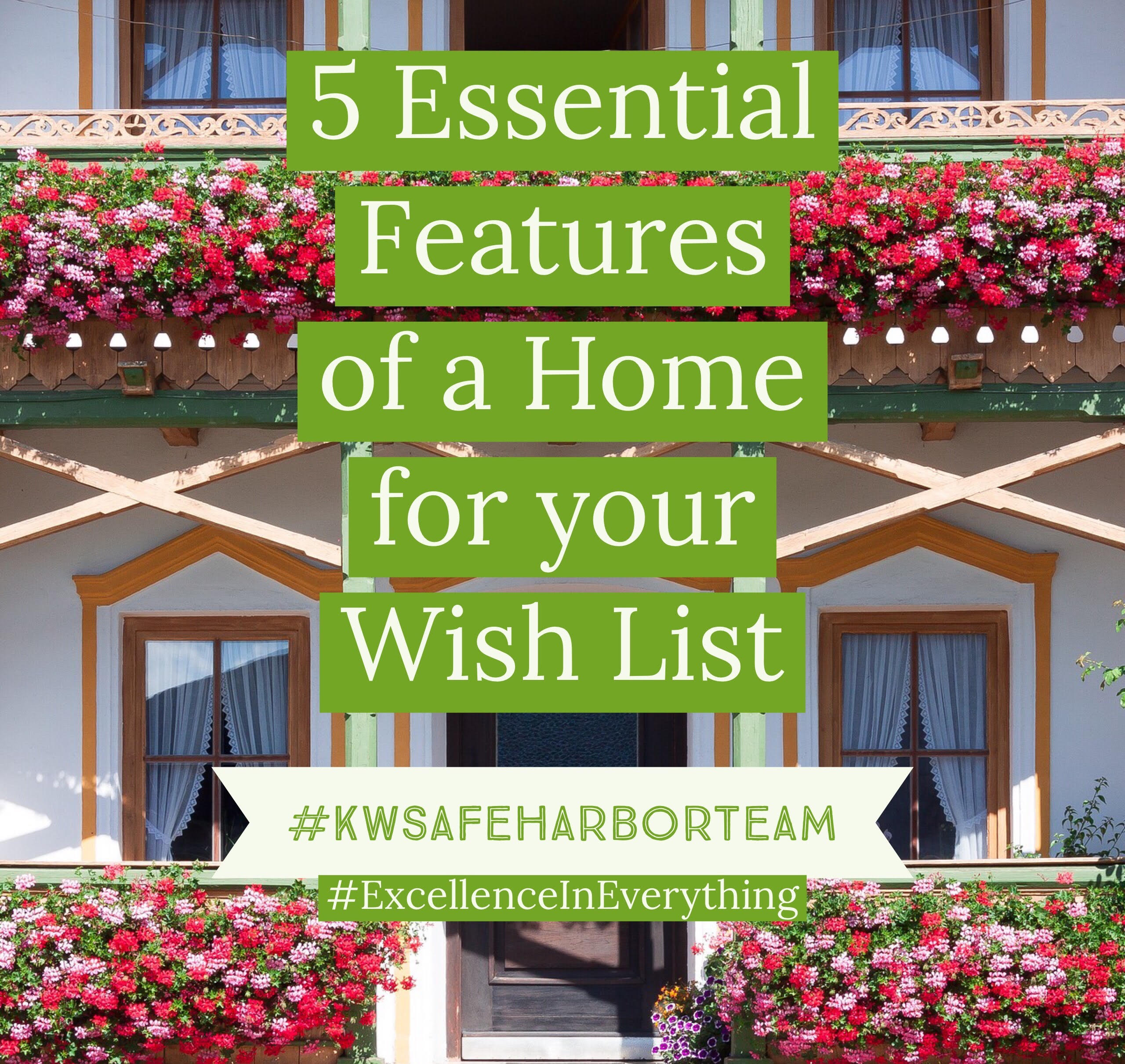 We've put together a list of 5 essential features of a home that we think are the most important to a successful home buy. Consider these 5 for your next home:
1. Right Size Square footage is important, but not quite as much as the number of bedrooms. Try to look for a minimum of 3 bedrooms if you're looking to expand or if you have a family that will likely grow in size. A two bedroom home will generally cater to single homeowners or couples that do not see a family in the future. This way the extra bedroom can be used for guests, an office or a place for hobbies. Be aware that a good staging job can disguise that a home has little storage, so keep your eyes open for spaces that would work as storage. To get an idea of the size you're working with, simply measure the rooms and closets and compare them to what you have now. Don't forget to focus on measuring the kitchen cupboards, pantries and counter space. The countertops may look spacious until you get out all of your kitchen toys and discover there's not enough room. Always be aware of space and whether it will accommodate your things.
2. An Easy Commute The daily commute time from your home to locations you normally visit is very important. Consider taking a drive from the home for sale to your office or place of work to see how long it will take during rush hour and at nighttime. Many homeowners decide to live in urban areas that are closer to work, friends and schools but it's important to note that the closer you are to the city the busier and louder it will be. In your wish list for essential features of a home, consider whether you want a home closer to the bustle of the city or in a quiet town on the outskirts. You might also consider bus routes and subways close to the home if the commute is too much for driving.
3. A Neighborhood That Suits Your lifestyle Some questions you should be asking about your neighborhood include: What kind of community is best suited to you? Is it important for you to live in a master-planned community? Do you want it to be gated? Is proximity to work necessary? Do you want your home to be located on a cul-de-sac? Or, maybe you want a corner home or a location that offers scenic surroundings? What kind of amenities do you want to have available? Recreation center, community pool, walking/biking paths? Thinking about these questions ahead of time will go a long way in identifying the right community for the way you want to live. Yes, your house is important, but the safety, location, and proximity to several amenities should be considered as well. Research nearby schools if you have children, as well as travel time to work, stores, and how your neighborhood is laid out. Feel just as comfortable with your neighborhood as your house.
4. Enough power and water Take a look at the heating/air conditioning unit, hot water heater and other major systems in the house when looking at homes. Most people flip lights and faucets on and off when they tour a home just to make sure they get the expected result. You should determine if the plumbing and wiring can accommodate your lifestyle. As for the electrical systems, you might want to talk to your home inspector. Just explain that there are X number of people in the family who may use electricity simultaneously and ask if it will hold up. While you may not need to look at these until you are settling on one specific house, it's better to add these essential features of a home onto your wish list just to be safe and to avoid complications when the home is finally yours.
5. Great neighbors Privacy is a factor that some buyers overlook until it's too late. Do a survey of the home to see what the windows are facing and whether neighbors can see into your backyard. If you're looking for a lot of privacy, you may want to only consider homes that are on larger lots with more space between houses. From the minor issues (such as one neighbor's casual mechanic "shop") to the major (a string of crimes in the area), you'll want to know the concerns of the people who live there. It's totally acceptable to speak to neighbors in the area and ask questions upfront. You can also ask the seller and do your own research as well.
Whether this is your first home or your next home, there are essential features of a home that you should keep an eye out for when looking to buy a home. Consider these 5 essential features of a home when buying a home to help ensure that you're making a worthwhile investment.
Narrowing down what's important to you in a home will make it easier for you to navigate the home buying process and find the perfect home that suits your needs and preferences. If you are looking into buying your next home, KWSafeHarbor team will be here to help you find the perfect home with all of the essential features of a home that you have on your list.
Read our client reviews to hear what they had to say about their experiences with us. KWSafeHarbor team is here to help you with any of your real estate needs. Know someone who's interested in buying a home? Don't forget to share our contact details so we can provide them the excellent service that they deserve!