The Best Fall Home Maintenance Tips
A new season is here! Now is the time to get all of your home maintenance and winter preparation projects done. Use this opportunity to accomplish all you need to do before the cold winter season.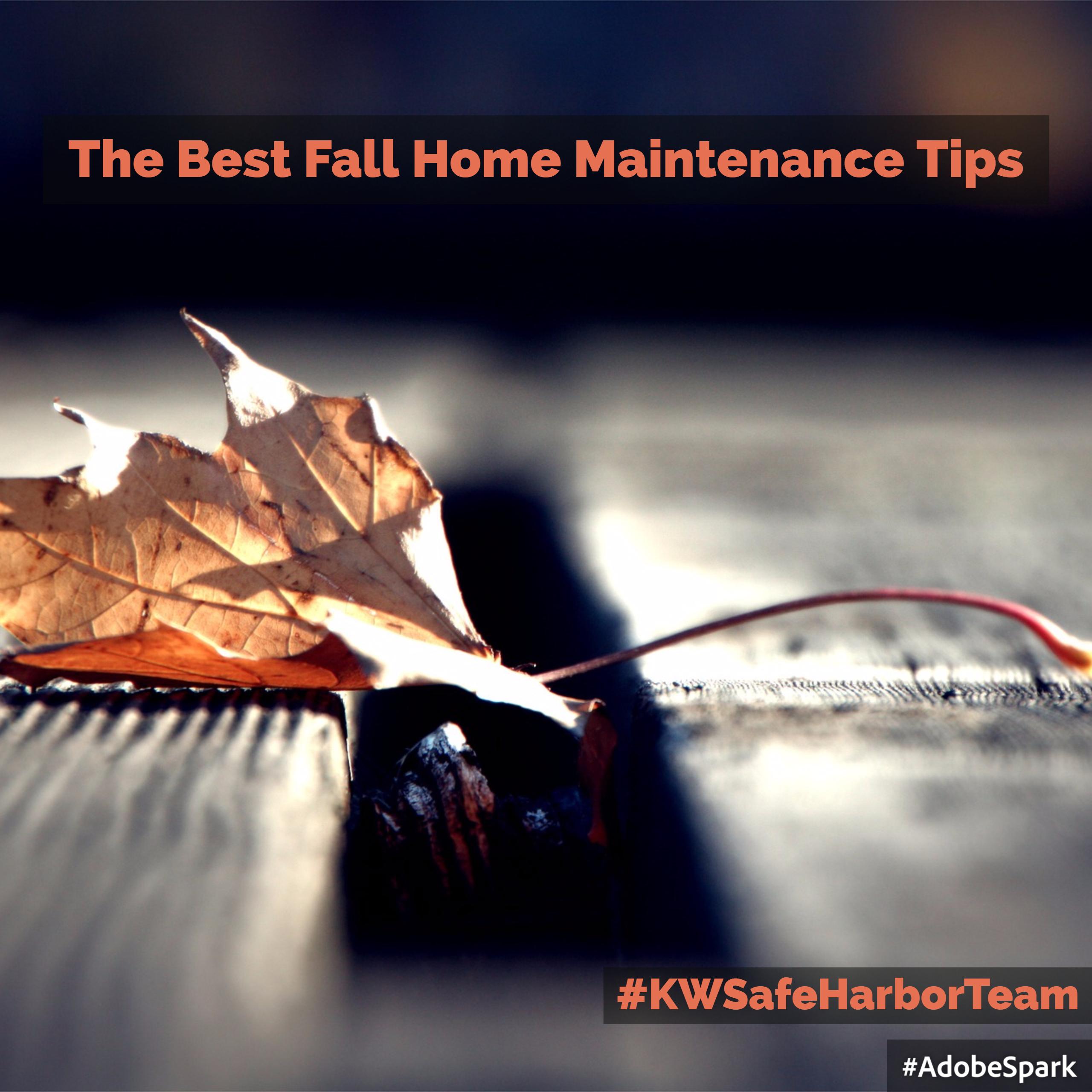 Help get your home ready for winter with these fall maintenance tips:
1. Maintainyour heating and air conditioning
Makesure to clean your heating and cooling system twice a year to help expand thelife of your units.
ForHeating
Whether your heating system uses gas, oil, orelectricity, its important have it thoroughly inspected and adjusted annuallyby a trained HVAC professional. A professional cleaning is inexpensive and takes a very shortamount of time.
Have your heating system checked by a licensed heatingcontractor. Heating systems will use fuel more efficiently, last longer andhave fewer problems if properly serviced.
ForAir Conditioners
Vacuuminternal parts of air conditioners and remove the unit or wrap the outside boxwith an approved tarp or plastic air conditioner cover to prevent rusting ofvital parts.
2. Examine your roof/gutters/downspouts
Ice, rain, snow, and wind combined with rapidly changingtemperatures and humidity wreak havoc on roofs. In protecting your home, your roofis your first defense. Without it functioning properly, water damage can occur.Check the flashing around your chimney and any openings in the roof, such asskylights for leaking problems. It's better to proactively deal with repairs inthe fall than to discover a leaky roof during a snowstorm.
Also,make sure your gutters are clear of dirt. Clear leaves, sticks and pineneedles from gutters and examine downspouts for damage or loose pieces, flushthem with water, inspect joints, and tighten brackets if necessary.
3. Examine the grounds of your property
Before the grass is covered with snow, inspect walkwaysfor cracks and loose paver material. Clean out and repair any damage withdriveway filler, then coat with a commercial sealer. Sealing the driveway willhelp extend the life of the asphalt through the winter and beyond.
4. Cleanout the garage
Makesure that any unused gas in equipment is removed and stored properly. Allowingthe gas to sit in the fuel tanks can cause sediment in the tank and canpotentially ruin the equipment. You might also want to bring in personalpossessions or furniture that you store in the garage if they can be damaged orbroken down by small animals seeking protection from the cold.
5. Prepare your fireplace
Manypeople still use wood burning or gas fireplaces more than their centralheater in the fall and winter months.
Doa visual inspection of your fireplace to make sure that it is in good workingorder.
Ensure the damper is open to allow air to freely movethrough the chimney. Check the damperhandle and springs to ensure the flue is operating correctly. Give it a test run atsome point in the fall, before it gets too cold, to make sure that it will befunctioning in the winter.
6. Drain your hot water heater
`Youcan clean your water heater by simply draining it. Allow all of the water inthe tank to come out. This will get rid of any buildup that is in the heaterdue to sediment and will help prevent it from building up during the winter. Ifyour hot water heater is extremely old or is rusting consider a new one thatwill be more cost-effective and energy efficient.
7. Check windows and doors for drafts
The majority of conditioned air in your home is lostthrough the windows and doors. Gothrough your home and open windows to ensure the seal and caulking around thewindow frame is in good condition.
Openings in the structure can cause water to get in andfreeze, resulting in cracks and mold buildup. Think of adding heavier draperyaround windows that are extra drafty, to help block some air infiltration. Make sure there are notcracks, leaks or air coming through the window sills or door frames.
8. Clean Yard Equipment
Once your grass begins to enter the dormant stage, takeyour lawnmower, trimmer, and other tools to get their blades sharpened andfluids recapped off.
Prepare your yard equipment for storage. This includesdraining fuel from all gas-operated equipment such as lawn mowers, leafblowers, and chainsaws. Check to see that all of your snow equipment is up andrunning before the first flurry falls and organize your snow-clearing gear.When snow arrives you'll want to have shovels, roof rakes, and snow blowerswhere you can get to them.
Your home goes through changes in temperatures, weatherconditions, aging, and of course human abuse in every season. To keep all yourcomponents of your home running smoothly, and to avoid costly repairs later,it's helpful to conduct seasonal maintenance actions each season.
Winter isn't far behind. Make sure your house is energy-efficientand ready for the cold weather ahead; fall is a good time to do this.
If you need a recommendation for a contractor to helpwith winterizing your home, don't forget to call us!
On the journey to being a homeowner? Make sure to read the UltimateGuide to House Hunting to help you get started. Are you planning to putyour home on the market soon? Feel free to check out these Top9 Ways to Stage Your Home to Sell.
KWSafeHarborTeam is here to help you in any of your realestate needs. We are here to provide you an excellent service and make sureyour home selling or buying experience is smooth and successful. Contact us today!