Top 10 Foolproof Home Decorating Tips
Not everyone has an eye for home decorating. And that's okay! At KW Safe Harbor Team, we want to assist you in creating a space you love even if you aren't a decorating pro. For easy-to-follow home decorating tips and tricks, check out the following suggestions to help you play up your house's strengths, hide its flaws and make it into a space you can't live without.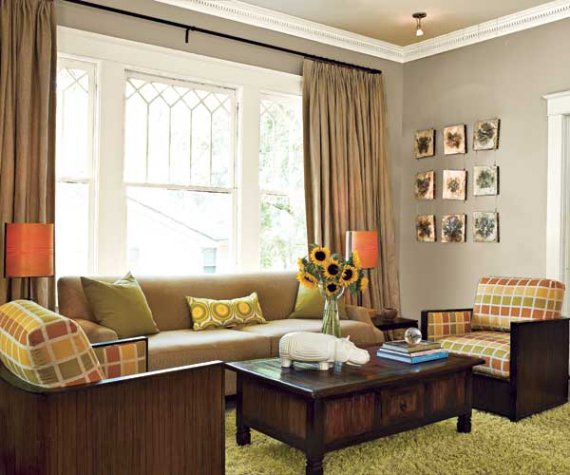 1. Set The Tone at The Front Door
A lot of home decorating tips are all about color. Make a great firstimpression by painting the front door a fun, glossy hue. Choose a hue thatcompliments the rest of the color palette of the exterior, while also stickingto the color scheme in the neighborhood. Reds, oranges and yellows are verypopular door colors right now; all are associated with joy and warmth.
You might also consider getting rid of an outdated screendoor and replacing it with a storm door with full-length glass that you can switchout for a screened panel.
2. Keep Wall Colors Light and Neutral
Classic home decorating tips will mention the importance of choosinglight, neutral colors for your walls. To reiterate, stick to colors like beigeor gray, especially on the first floor, where flow is important. Neutral wallsgive you the greatest decorating flexibility, allowing you to easily switch upyour accessories.
If you have two small rooms next to each other, paintingthem the same neutral color helps them feel larger. Look at a paint strip andmove up or down a shade or two for a subtle variation from room to room.
3. Make Sure Your Sofa Talks to Your Chairs
When you place the furniture in your living room, aim fora similar sense of balance and intimacy. A conversation area that has a U-shapeor an H-shape with a sofa directly across from two chairs and a coffee table inthe middle, is ideal. Avoid pushing all the furniture against the walls; floatingthe furniture away from the walls makes the room feel larger.
4. Let The Sun Shine In
Of all the home decorating tips, this one is the easiest and cheapest. Whenit comes to heavy, outdated drapes, a naked bank of windows is better. Ideally,window dressings should be functional and elegant. Think sheers paired withfull-length panels. If your room gets a lot of sun, opt for light colors thatwon't fade. The most recommended lightweight fabrics for panels are cotton,linen and silk blends because they tend to hang well.
5. Hang at Least One Mirror in Every Room
Mirrors can make a space feel brighter because theybounce light around the room; however, placing one in the wrong spot can bealmost as bad as not having one at all. Put mirrors on walls perpendicular towindows, not directly across from them. Hanging a mirror directly opposite awindow can actually bounce the light right back out the window.
6. Scale Artwork to Your Wall
If you like to hang artwork in your space, remember thatthe middle of a picture should hang at eye level. If one person is short andthe other tall, average their heights. Also take scale into account; for a largewall, go big with one oversized piece or group smaller pieces "gallery-style".For the latter, don't space the pictures too far apart; 2 to 4 inches betweenitems usually looks best.
7. Layer Your Lighting
Every room should have three kinds of lighting: Ambient,which provides overall illumination and often comes from ceiling fixtures;task, which is often found over a kitchen island or a reading nook; and accent,which is more decorative, highlighting, say, artwork. For a living room, youshould have at least 3 watts (42 lumens) per square foot.
8. Declutter
This homedecorating tip is very important-not just for décor but for livabilityas well! You must remember that before buying a new set of furniture or framesfor your living room, clean the entire living room first and let go of thethings that are not necessary anymore. Your trash may be someone else'streasure, so consider setting up a garage sale of some of your items or donatethem to some friends or neighbors.
9. Use Visual Tricks to Raise the Ceiling
If your ceilings are low, consider painting them white tomake the room feel less claustrophobic. Hang curtains higher than the windows totrick your eye into thinking the room is taller. Most standard curtain panelsmeasure 84 or 96 inches, allowing you to go about 3 inches above the windowcasing before the length gets too short. If you want to hang them higher,you'll have to order custom drapes. Leaning a large mirror against a wall canalso make a room seem taller.
10. Arrange Small Pictures on a Dresser
Keep the framed photographs on the writing table, dressingtable or mantel but do not hang them on your walls. Small pictures look likevisual noise on a wall but they can pump up the personality of a table. Tounify a collection of photographs, use frames of the same material and makesure all the pictures are approximately the same size, so that none will standout over the others.
Decorating is a fun and exciting activity especially whenit turns out great! Try something new and spice up the family's favorite roomwith these home decoratingtips and tricks from pros.
Not yet a homeowner? Start your search today! Check outour UltimateGuide to House Hunting to help you get started. Are you planning to put yourhome on the market soon? Feel free to check out these Top9 Ways to Stage Your Home to Sell.
KWSafeHarborTeam is here to help you in any of your realestate needs. We are here to provide you an excellent service and make sureyour home selling or buying experience is smooth and successful. Contact us today!