9 Fun, Family Activities for the Winter
We all know how hard it is to get ourselves outdoors during the wintertime, but luckily there are lots of great things to do inside where it's nice and warm! To give you some ideas that your family can take part in, KWSafeHarborTeam has put together a list of activities for your family to enjoy this festive season.
Enjoy!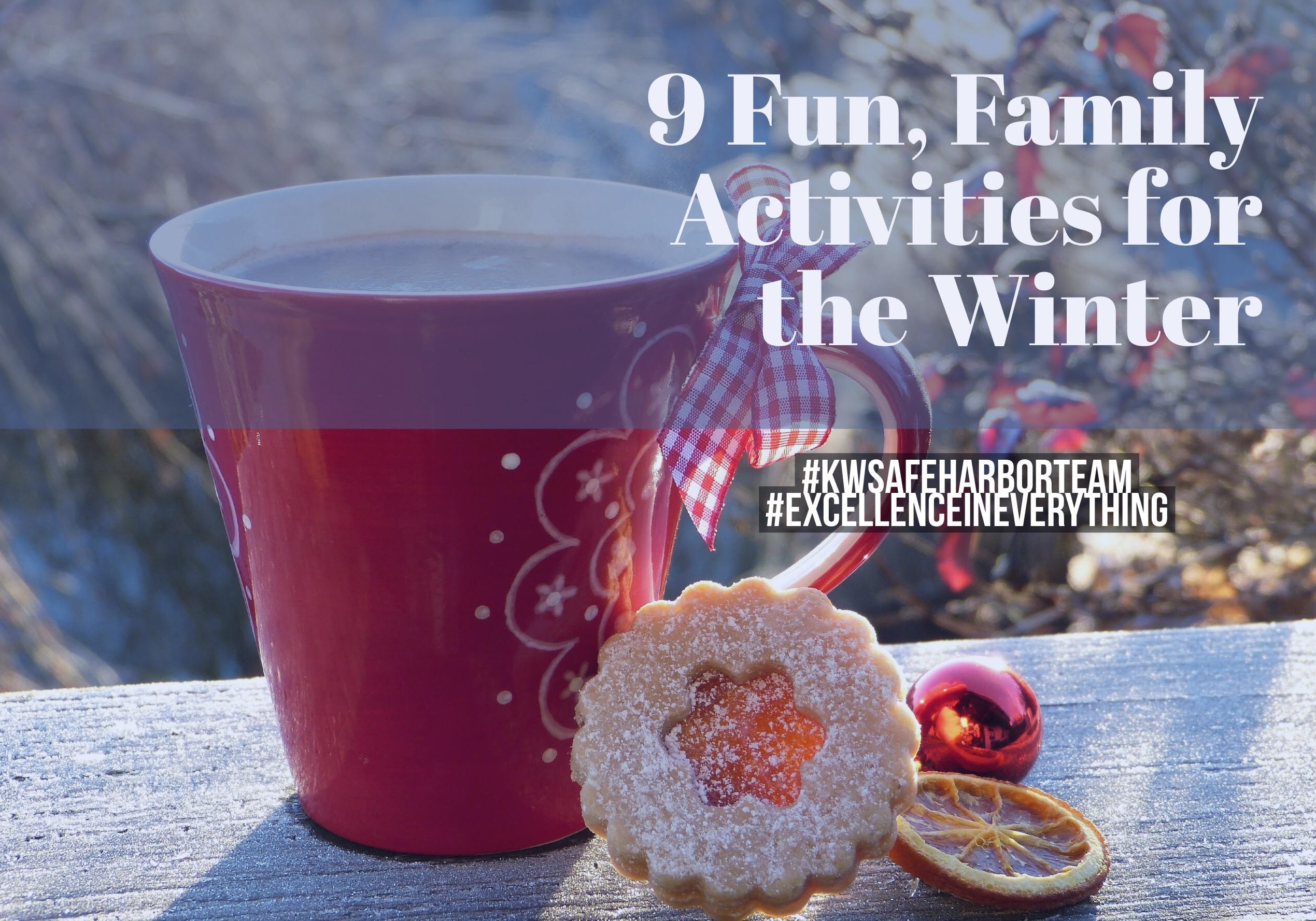 1.Take an Online Class
Learning never ends, and it can be even more fun to learn something new alongside friends or family!
There are hundreds of online courses in all types of categories, which allow you to learn a new skill from the comfort of your home.
You can choose from a variety of categories like language courses, management courses, crafts and even home science courses. Try letting everyone in the household choose a topic or skill that they're interested in so everyone can learn to appreciate each other's interests and hobbies.
2.Shop after-Christmas sales (Online, in your PJs)
There are lots of great sales to be had throughout the holiday season, so spend some time searching for those great deals or getting some ideas for the New Year. Make sure to check out your favorite stops on the day after Christmas, December 26, when lots of stores will have online sales.
3.Play Board Games
Break out the Monopoly or other great board games you may have on hand for a game day marathon with your family or friends. You can mix up the teams for every game or keep track through each game to crown a winner at the end of the day. Board games are a great way to keep busy and are a life-saver if the power ever goes out.
4.Movie Marathons
Who doesn't want to spend a day getting comfy and enjoying all of the movie-making classics? Pop some popcorn and get comfy on the couch with your favorite movies! Winters are perfect for organizing your own micro film festivals. You can invite friends and/or family and plan a comfy winter get-together with food & drinks. If you want a day to yourself, simply sit down with a hot beverage and treat yourself to your favorite trilogy, sitcom or set of movies solo.
5.Music Library
With an open schedule and nowhere to be, now is a great time to enjoy all that music you have been collecting. You can start searching for new albums you might be interested in, or enjoy your favorite classics. Now is also a great time to make some new mixes and organize your existing collection.
6.Plan a Summer Vacation
What better time to get excited for your summer vacation than on a cold winter's day? Check out warm weather websites and magazines, and plan a future getaway with friends and family while you have the downtime. Take this time to plan some upcoming fun events for you and your friends by thinking up a great dinner party menu, wine tasting, theme party, pool party or a fun pub crawl. You can have fun planning the menus, looking up details, and coming up with the guest list.
7.Workout
If working out is your thing, don't despair if you can't get to the gym or go outside. Staying fit is necessary but going to the gym is optional. No, you don't always need to go the gym to work out! You can develop your own mini-workout routine while indoors during the winter as well.
8.Read
Curl up with a good book on the couch or by the fire while the winter weather keeps you inside. Turn your day inside into the ultimate time to do nothing but relax. Get on your most comfortable pajamas, gather some cozy blankets and round up reading materials while you do some serious lounging in bed. The idea of curling up with your favorite piece of literature never gets old. Don't forget a warm, delicious beverage.
You can also check out some good blogs with your free time! There are some great blogs at KWSafeHarborTeam that can help with your real estate questions and concerns. Be sure to check them out!
9.Home Improvement
A day off due to the weather can give you the opportunity to finish that home improvement project you started but could never find the time to get done. Moving things around in your home can be fun and refreshing if you are into decorating. Try hanging new pictures, rearranging your furniture or dreaming up new ideas online. Just be sure you have all of the proper materials and that you can safely complete the tasks.
Winter is a great time to stay cozy and hibernate, but there are lots of other things you can do with your time as well! Try to spend some time getting involved and spending time with those closest to you.