Top 5 New Year's Resolutions for Homeowners
The start of a new year is a popular time for making resolutions and there are all kinds of things that people want to achieve or improve upon. Some people strive to improve their fitness, to reach their career goals or maybe even to improve their financial situations. Financially speaking, we might want to pay off debt, build up our savings, prepare for retirement or better manage our daily spending in 2017.
In the spirit of new beginnings, we would like to help you achieve your New Year's resolutions that include improving your home. Check out these suggestions that will help to make your home an even better space for the coming year.
The KWSafeHarborTeam has listed our top 5 best home improvement resolutions for the New Year and how to achieve them: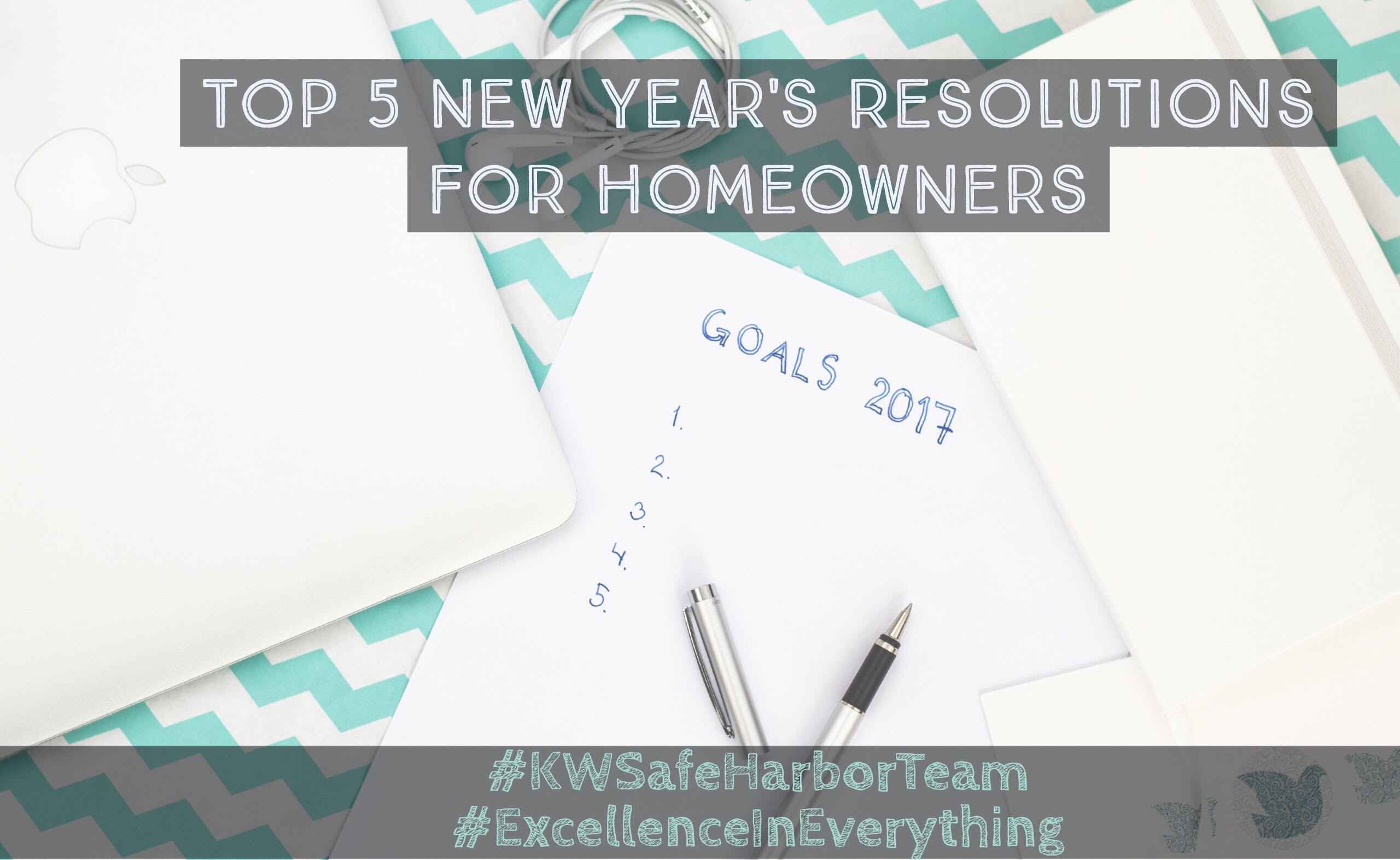 1.De-Cluttering
During the hustle and bustle of the holidays cleanliness often gets forgotten, especially if you're not home very often. One of the best ways to transform your space and ring in an organized New Year, is to tidy up your home and de-clutter.
If you have lots of things you never used or needed in 2016, chances are you won't need them in 2017 either! It's a good idea to clean out your closets, donate clothes you never wear and go through all of those dusty boxes in the attic or basement. Not only will your home look better, but you'll also feel better as a result! Clutter has also been shown to decrease creativity, productivity and focus, so if you want to have a happy and productive 2017, it's time for the extra stuff to go.
2.Cut Energy Use
The best place to start shrinking your bills is by cutting your energy usage in your home.
Depending on where you live, you may qualify for a free energy audit. In some states, a nonprofit will come to your house free of charge to assess your energy usage and make recommendations about how you can save money.
If that option is not available, you can hire a professional energy auditor. Even simple lifestyle changes can make a big difference in your monthly bill.
Changing your behavior can also make a significant difference in terms of energy savings. Try some of our energy-saving tips below:
Switch to LED light bulbs or get a programmable thermostat
Commit to turning off the lights when you leave a room
Close the vents in any rooms you don't use frequently
Turn off your air conditioner when you leave the house
Turn your heater down to 55 degrees at night
Install compact fluorescent bulbs and low-flow showerheads
Try drying some of your clothes on the line and wait for the dishwasher or washing machine to be full before you run them
Turn off your power strips and/or set your home computer to revert to sleep mode when not in use.
Water your yard less – put in drought-tolerant landscaping if necessary
Give composting a try
3.Make it Safe and Sound
The new year is the perfect time to review the current state of your property and take any precautions necessary to ensure that you're safe in the upcoming year.
First, check your house for radon—a common, carcinogenic gas that can increase your chance of lung cancer (pick up a radon testing kit at the hardware store for less than $10). Make sure you install a carbon monoxide detector on every bedroom floor in addition to fire detectors. If a chimney flue or furnace vent gets blocked or leaks, carbon monoxide could back up in your house and kill you. Like a radon test, this is a small investment for $40 or more for such an important safeguard.
Watch out for dryer lint. Lint may seem innocent, but it's highly combustible. Make sure your house can breathe. Many people's bathrooms and attics aren't vented to the outside. This makes you a prime candidate for mold.
If you're considering a remodel and your home was last built or remodeled before 1978, consider testing for lead paint and asbestos flooring. It will have to be handled properly during removal, or particles can be released into the air that you can ingest.
4.Keep Your Credit on Track
Do your home and your credit a favor by committing to paying your bills on time. Missing your monthly credit card, mortgage and utilities payments negatively impacts your credit score. Lower credit scores generally translate to higher interest rates for future loans and other credit. Consider your credit and factor a cushion into your budget for the unexpected in 2017.
If you have any sort of expendable income in 2017, you might want to think about putting it towards your mortgage. Making extra payments on your mortgage can have a huge impact on the total you end up paying out over the course of the loan. Those extra dollars will add up and end up saving you serious dollars in interest over the course of your mortgage and shorten the amount of time you're on the hook for those payments.
5.Review and Renew Your Homeowners Insurance
A lot of homeowners roll over their insurance year to year, but if you haven't reviewed your policy in a while, you might be missing out on some money-saving opportunities.
Shop around and get quotes to see what rates are competitive in the current market and if you're paying more, see if your current company will match the lowest quote. If you have a stand-alone policy, think about bundling your auto and homeowners insurance with one company. Insurance companies will often offer discounts for customers who hold multiple policies.
You might qualify for discounts on your homeowner's insurance. If you've made any major repairs or improvements, you could be entitled to a discount. Contact your insurance company to make sure they have the most up-to-date information about your property. And if they won't compromise on the premium, try shopping around for a new policy.
The year 2016 is about to say goodbye and the New Year is just around the corner. When making your list of New Year's resolutions, don't forget to include a few items related to your home and finances.
If you're a homeowner, consider making a commitment that can really save you money and improve your quality of life in the long run. These top 5 New Year's Resolutions are things that every homeowner should make for 2017.
Not yet a homeowner? Start your search today! Check out our Ultimate Guide to House Huntingto help you get started. Are you planning to put your home on the market soon? Feel free to check out these Top 9 Ways to Stage Your Home to Sell.
The KWSafeHarborTeam is here to help you with any of your real estate needs. We are here to provide you an excellent service and make sure your home selling or buying experience is smooth and successful. Contact us today!