In the greater Cleveland area, homeowners are gearing up to create fresh new looks in their homes! The new year is a great time for starting fresh or trying something new. In terms of your home, you may want to re-decorate it or bring in some new splashes of color. It can be easy and fun to change the look of a room simply by changing some shades or adding in bold patterns.
This year's Pantone color of the year is "Greenery", which is a bright, refreshing shade of green that would look perfect in any room. To help you incorporate this color into your new design, the following suggestions are some ways to decorate your home using the Pantone Color of the Year, Greenery.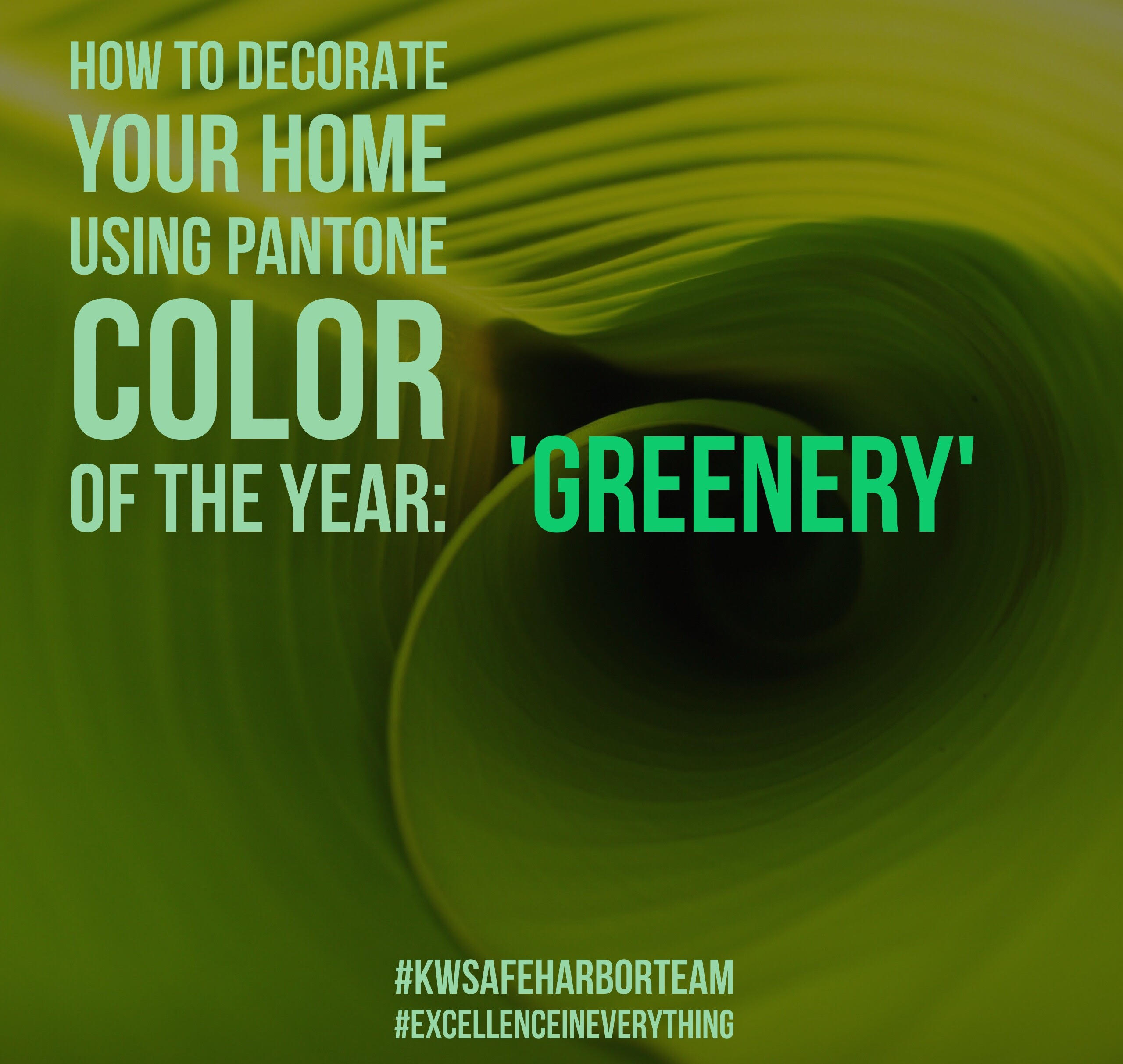 Quick Background
Who is Pantone Inc.? Pantone Inc. was a printing company out of New Jersey that has morphed into a company that has standardized colors for many industries, primarily in the printing world.
The 2017 Color of the Year represents: Refreshment, rejuvenation and rebirth, according to Leatrice Eiseman, executive director of the Pantone Color Institute. It's called Greenery.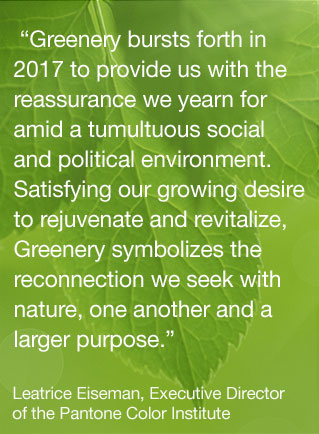 Courtesy of www.pantone.com
Painting with 'greenery' in open spaces or around floor-to-ceiling windows will allow the natural green shades outdoors to become part of a room's backdrop and ambiance. Here are some other ways to add 'greenery' to your home décor:
1.Floor
If you want one big burst of green, choose a thick, bright green rug to use as the centerpiece in a bedroom, bathroom or living room. This is a quick, budget-friendly solution that can easily be moved from room to room to shake things up.
2.Plants
Welcome a state of Zen into your home by bringing the outside in. The natural elements of the outdoors can actually help to improve self-esteem, reduce anxiety and heighten awareness of one's surroundings. Plants and greenery are common staples in many homes because they can be great for decorating rooms. Houseplants can even help with things like cleaner air and noise control.
3.Glass Hurricanes
To add textural appeal and color to glass hurricanes, update with tree cuttings, green ribbon and spray adhesive. Gather several branches together, thinning them out until nearly flat. Cut the ends of the branches to size so they're all relatively even in height and width. Add spray adhesive to the exterior of the glass hurricane, then position each branch in place. Once the adhesive takes hold, add an extra layer of visual interest on top of the cuttings with green ribbon.
4.Centerpieces
Simple centerpieces, like glass candleholders and flower arrangements can be dressed up with layers of cypress tree cuttings. There's no artful arrangement needed; the less perfect the greenery appears, the more natural it looks. This is a simple way to add some green to a dinner table or bedside drawer.
5.Wall Decor
Add an element of life to bare walls with all kinds of shades of green! You can create floral vessels filled with tree cuttings, living walls and terrariums; put these "living" pieces of décor on display on shelves, as book ends, etc.
If you prefer to keep your walls clutter-free, you mightprefer to decorate with botanically-themed wallpaper or paint.
6.Shadowbox
Turn tree cuttings into art with shadowboxes. Cut branches down to sizes scaled to fit inside the shadowbox frame, then flatten the branches and place them against the glass insert. Sandwich the branches between the glass insert and the back panel, then display on the wall.
7.Accessories
Just a few well-chosen accessories will give your home the green fix it needs. Real Simple placed a green runner on the console, set the table with olive-colored dishes, and framed scraps of green-patterned wallpaper.
If you have a green thumb, consider green (or greenish) flowers such as Forsythia branches, which bloom yellow before sprouting bright green leaves. The Billy buttons, arranged in a light green vase on the table, can last up to two weeks. Also try Lenten roses, which have soft green flowers and foliage.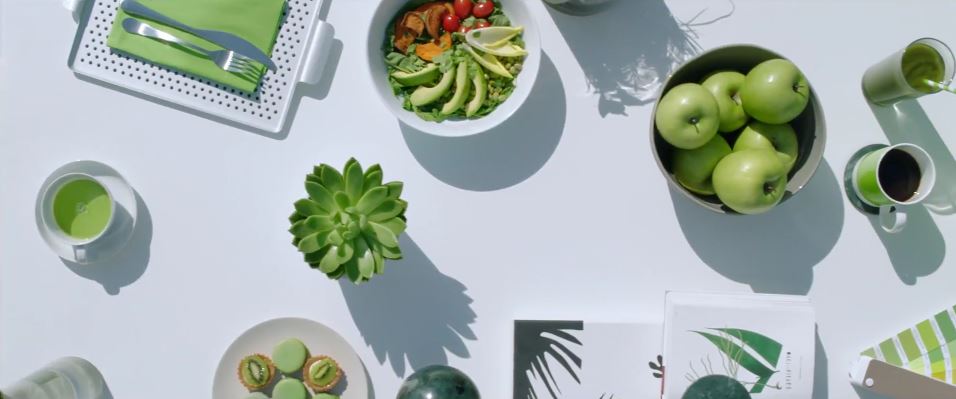 Courtesy of www.pantone.com
Why wait for spring to revamp your home décor? Whether you're ready for a total renovation or simply want to add a splash of the newest color to your bedroom, now is the perfect time to freshen up your home using the color of the year!
Not yet a homeowner? What are you waiting for? This is the best time to start your homeowner journey! Here at KWSafeHarborTeam, we know that buying a home is a life-changing experience, which is why our team of highly-seasoned real estate professionals is dedicated to providing exceptional, personalized service for all of our clients. Contact us today and we'll be happy to help you find and buy your dream home so you can finally start decorating!

Also Read: Top 6 Question to Ask Before Hiring Your Realtor
Do you want to sell your home in greater Cleveland? We would love to help you find the right buyer for your home, with less stress and more fun. Start by reading the Top 5 Home Seller Mistakes so you know how to avoid the common mistakes that home sellers commit and be sure to also check out the Top 9 Ways to Stage Your Home Sell so your home is primed and ready to go for potential buyers. Don't hesitate to call us today. When it's time to move, you need someone you can trust to take care of all of the details that will get your home sold quickly and for the price you want. KWSafeHarborTeam can take care of everything you need from start to finish.
For more details, please visit our website at KWSafeHarborTeam today! Do you know someone who is interested in buying or selling a home? Don't forget to share our contact details with them so we can provide them the excellent service that they deserve!