For many people, especially in the greater Cleveland area, a home is one of the biggest purchases they will ever make. Fortunately, it need not be the most difficult and stressful. While it's likely to be one of the largest financial transactions you'll make, KWSafeharborTeam has found that most home buyers in Greater Cleveland are poorly prepared to ensure they make a good purchase decision.
To help ensure that you are making a smart investment and a good purchase decision, KWSafeharborTeam has created a list of the top 8 common mistakes that most home buyer's commit. Look over these mistakes so you know what to look out for and avoid.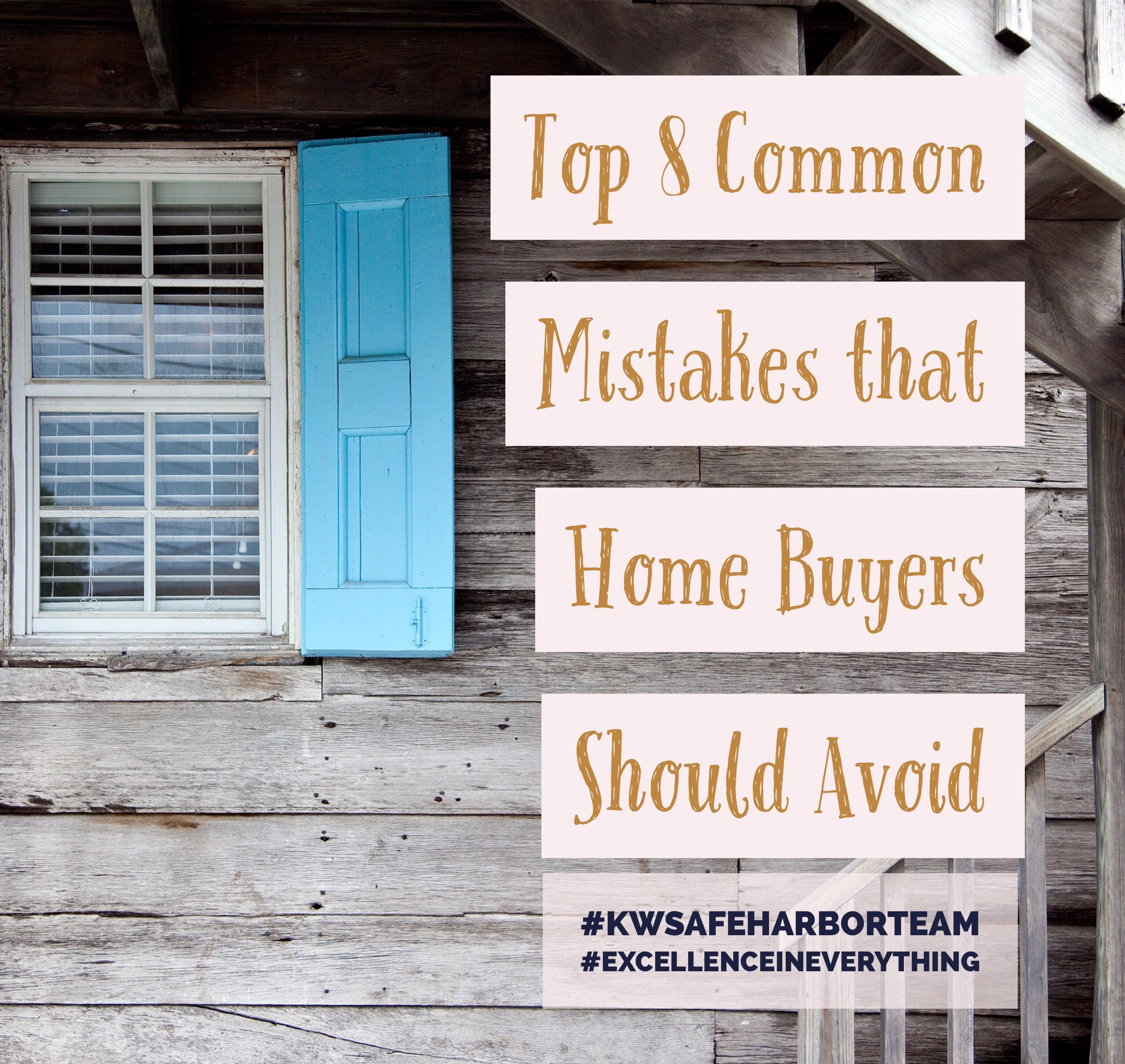 1.Not Checking Your Credit Score
Before you even think of shopping for a home online or checking open houses nearby, make sure you get a copy of your credit report. The cleaner your credit report and the higher your credit score, the more likely you are to be preapproved for a mortgage at a low interest rate.
Review your credit report a few months before you begin your house hunt, and you'll have time to ensure that the facts are correct and dispute mistakes prior to a mortgage lender checking your credit.
KWSafeharborTeam can suggest someone to help repair your credit if your credit score is not in good standing. Please contact us if a lower credit score is keeping you from buying a home.

2.Skipping Mortgage Pre-Qualification & Pre-Approval
Home buying doesn't begin with home searching; it begins with a mortgage pre-qualification.
After you've assessed your credit report, it's time to contact a qualified lender to find out how much you can afford. The initial pre-qualification step is essential because it allows you to discuss any goals or needs you may have regarding your mortgage with your lender. A lender can explain your various mortgage options and recommend the type that might be best suited to your situation.
What you think you can afford and what the bank is willing to lend you may not match up, especially if you have poor credit or an unstable income, so make sure to get pre-approved for a loan before placing an offer on a home. Getting pre-approved can help you save time by looking for homes that you know you can afford and it will put you in a better position over another bidder with no pre-approval.Getting a preapproval isn't a hard pull so it won't hurtyour credit.
Be aware that even if you have been pre-approved for a mortgage, your loan can fall through if you do something to alter your credit score, like finance a car purchase. If you cause the deal to fall through, you may have to forfeit the several thousand dollars that you put up when you went under contract.
3.Not Knowing What You Can Afford
There's a big difference between what the banks indicate they can lend you and what they actually will. With KWSafeharborTeam, we can provide you a list of several reliable lenders.
If you don't already have a budget, make a list of all your monthly expenses (excluding rent), including vehicle costs, student loan payments, credit card payments, groceries, health insurance, and retirement savings and so on. Don't forget major expenses that only occur once a year, like any insurance premiums you pay annually or annual vacations. Subtract this total from your take-home pay and you'll know how much you can spend on your new home each month.
4.It's Not All About the Price
We all know you make your money in property when you buy, but that doesn't mean you must buy cheaply. You make your money by buying the right property, not a cheap one. Don't base your buying decision purely on price.
After you've found the right home, it's important to make a proper offer. Don't base your offer on the seller's asking price. Instead, get a comparative market analysis from your buyers' agent. This analysis will reveal recent asking and sales prices of similar homes in the neighborhood. With this type of knowledge, you can make an offer that is appropriate.
See Related: Keep an eye out for these 5 essential features of a home when looking to buy a home. This will greater your chances of choosing a worthwhile investment.
5.Going Beyond Your Budget
Buying a home that's way out of your price range could ruin your finances in the future. If you've started looking at homes that are outside your price range, you'll end up lusting after something you can't afford, which can put you in the dangerous position of trying to stretch beyond your means financially. It can also cause you to feel unsatisfied with what you actually can afford.
Don't be tempted. The bank offers you a borrowing limit for good reason, based on your ability to repay the loan. Spending more than you can sensibly afford leaves you exposed to potential financial shocks, including rises in interest rates.
6.Not Using Professional Help
Venturing into the home buying process alone is not a good idea. You will need a reputable real estate agent to help you. While every rule has its exception, generally, first-time homebuyers should not try to deal directly with the listing agent.
The sellers have an agent protecting them, looking after their interests and advising them, but most home buyers commit mistakes by going solo. You wouldn't go to court without a lawyer on your side, would you? That's why it's important to have the same protection that the seller has.
Also, think about how much time and stress a good agent can save you. Realtors have access to all of the homes on the market through the multiple listing service, plus all of the ones that are under contract and have been sold. A specialist has time to sift through all of these listings, and make the appointments to show you the houses, create comparative market analyses to determine proper pricing, and meet with necessary inspectors. Real estate agents also can help buyers traverse a taxing.
One of the mistakes a lot of people make is finding a realtor they aren't comfortable with. Read this article to help you choose the right agent to represent you.
Agents at KWSafeharborTeam has extensive knowledge about the real estate market in the greater Cleveland area. If you want to start your homeownership journey but you're not sure where to start, don't hesitate to call us so we can help you.
7.Failing to Consider Additional Expenses
Paying for your mortgage is not the only thing you need to think about when considering your budget. You'll also have to factor in the cost of taxes, insurance, utilities, and fees. There are several additional costs that first-time home buyers neglect to prepare for. They can be anything from the closing costs to appraisal fees, escrow fees, homeowner's insurance fees, property taxes, and even moving costs.
If you're interested in purchasing a condo, you'll have to pay maintenance costs monthly, regardless of whether anything needs fixing because you'll be part of a homeowner's association. To prevent you from committing this mistake, ask the homeowners about their average utility costs and property taxes, get a homeowner's insurance quote and budget about one percent of the home's purchase price for annual maintenance. Run the numbers to see if you can afford the home.
Once you're a homeowner, you'll also have additional expenses on top of your monthly payment. You'll be responsible for paying property taxes, insuring your home against disasters and making any repairs the house needs.
8.Not researching your neighborhood
You may be living in your dream home, but your neighborhood's a nightmare. It's important to find out about the quality of schools, the crime level, transport and possibly upcoming zoning issues. Get to know the neighborhood, because you're not just buying a house; you're also buying a location.
If schools are an important factor, you should go check them out personally. Speak with the principals or other parents whose children attend. To learn more about the community, open up the local newspaper. Today's buyers can gather all sorts of neighborhood information from real estate blogs and websites like Zillow and Trulia. Remember, you can change your house, but you can't change the neighborhood.
Buying your next home can be both exciting and exhausting. Your goal is to find a home you love at a price you can afford; while that sounds very simple, many people still commit mistakes that prevent them from achieving their dream. Guard yourself with our tips to get the most out of your purchase and avoid making these top 8 common mistakes that most home buyers commit.
Are you ready to be a homeowner? Use our guide to get more knowledge about the home buying process. Once you're ready, kick-start your home search by checking out our listings in the Greater Cleveland Area or call us at 440-521-1447 to help!
If you're looking for a home in the Greater Cleveland Area, we'd love to be considered. Get in touch to see if one of us is the right agent for you!